TEDxHonolulu 2013 sparks interest in Community Cultivation
Posted by Kapi'o Contributor on Nov 28, 2013 in News |
News » TEDxHonolulu 2013 sparks interest in Community Cultivation
By Mika Yogi
The Kapiʻo attended this year's fourth annual TEDxHonolulu's conference at the Hawai'i Theatre courtesy of Genesis Leong, lead curator. In front of the theatre there were numerous volunteer organizers with their booths set up, which included, "The Coalition to End Homelessness," who handed out flyers to bring about awareness to abiding issues. For example, school-aged children lacking adequate resources to receive a proper education.
The tickets were waiting to be picked up at the box office and seating did not start until 9:30 a.m. We were seated 30 minutes late, but at least the seats were unassigned. In spite of the occasional speakers and video playback difficulties throughout the event, the conference forged ahead without a hitch.
For TEDxHonolulu's 2013 theme, they established a Sustainability Team to assist in their mission to cultivate community. What exactly does cultivating community mean? According to what the speakers had presented, cultivating community means education, growth and working together as a community.
Speaker Matthew Nagato, communications director at Hawai'i Primary Care Association, told a story about an elementary school on the Big Island that struggled with their adolescents producing low-test scores and were frequently absent. In attempt to help solve this problem, a determined teacher decided to launch a new program, along with the support from other staff members, which implemented weekly running into the school's P.E. classes. The results showed much improvement. The kids were less stressed, had more energy, and felt more eager to come to school. They also improved significantly on their test scores and attendance rates.

But most importantly, according to Nagato, is that "health is in everything we do, and the surest way to creating a thriving, healthy society is through the power of community".
"I need you" said Ian Kitajima, senior executive at Oceanit.
A phrase Kitajima and Oceanit uses to help build the organization community. According to Kitajima, organizations need superstars and superstars are all around us.
"Our community, we are the canvas," Kitajima said, "and the artists are the superstars, are those people that we bring to our community and they have an unlimited canvas, and the paints and brushes is all the other people and all the other resources and facilities that are part of our community."
They are important to our community because they provide us with creativity, innovation and help stimulate our growth in areas such as job opportunities, new ideas, and broadening our perspective. Searching for a superstar should not be the only matter on our agenda. Cultivating personal development is one that should be added to our list.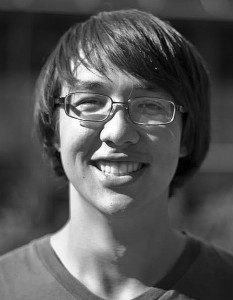 Marine biologist student at the University of Hawaiʻi at Mānoa, Paul Bump said, "Instead of just being freaked out by things we don't know, we can embrace them."
Not all people would agree with Bump on embracing things we do not know. For example, Jessica R. Munoz, volunteer director of Courage House Hawai'i Project, shared her thoughts on prostitution four years ago.
Munoz said, "I viewed in light of the movie "Pretty Women" in which you have a young girl on the streets. She appears to have some friends. A rich man comes along, takes her on a date, wants to put her up in a nice hotel, buys her a lot of great things, falls in love with her, wants to marry her. Now that's a good story but that's not reality. It does not show the rape, the abuse, the torture and the underground world that exists."
Munoz was admitting her ignorance about the hidden world of sex trafficking and the many young girls who had suffered from its psychological and physical infliction. She believes as a community we need to reduce the demand for sex and take a stand against exploitations and all forms of abuse.
There were more than ten speakers at the TEDxHonolulu conference, all of them covered different aspects of community cultivation and they all provided a course of action to start the audience's contribution to this cause.
Unfortunately, there were not that many people who attended the conference to receive this message. The tickets were sold for $85, which included lunch. For those who were unable to attend the conference, there will be clips of the speakers online. The overall experience was enlightening and Kapiʻo looks forward to attending TEDxHonolulu 2014.
https://kapionews.kapiolani.hawaii.edu/tedxhonolulu-2013-sparks-interest-in-community-cultivation/